Welcome to Kennel Gatefields, the small kennel with the big winners!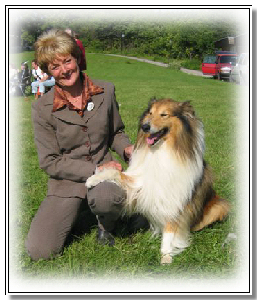 I grew up among dogs, mostly shih-tzues and pekingeses, as my mother was a famous breeder. (Kennel Bymarken) From the age of ten I showed shih-tzues, and really enjoyed it.
I also liked horses very much, so I got myself an education as a riding-teacher.
1981 it was time for me to buy my first OWN dog, at it happened to be a rough collie, Sired by Geoffdon Legal Tender. Her name was Hassleholm Gitti; she lately got her obedience title LP
After only one year I bought my next collie, also sired by Geoffdon Legal Tender. Her name was Hassleholms Ylli - "Frida"; she also got her obedience title "LP"I showed them a little, and had some success, but not the big wins I was used to from the shih-tzues.
After another year I bought Bermarks Caprice, sired by CH Romadale Rothchild.
I had not planned to breed, but I could not resist the opportunity.
I used among others Rokeby Kings Royal and Lynaire All In Black to my girls.
1988 I had a litter out of "Gitti" and SUCH, BCH, L CH Speedlines Black Pepper. I Kept my first "home-made" puppy from that litter. The puppy I kept never passed her mental test as she became a little afraid of gun-shot after an accident. That ment at that time that she never could get a CC in Sweden. Two of the puppies in that litter got CCs, one should have been a Champion in another country, winning 3 CCs from different judges as well as several CACIBs.But as she had not made enough working tests she never get the CHAMPION-title
The puppy I kept was LP Gatefields Geraldine. She became a very important broad bitch for me, giving me my first Swedish Champion, sired by Brilyn Chance Again At Lynnswed
That puppies name was Gatefields Git Gay, she became not only Sw Ch, she also has the title "Tjänstehund", and she was a kind of security dog in the Swedish Defence!
Geraldine also produces another litter out of a Speedline-relative male. I kept a girl there, named Gujje. She was not much to show, but she produced the loveliest pups!
At that time I bought my most important broad bitch ever: JEFSFIRE MAYBEE!!!!!
She was the one I need to produce that little extra! She was sired by GB CH Jefsfire Charlie Boy. I'm very grateful to Mr and Mrs Jeffries for letting me have her, as well as I will always be grateful to Mrs Elsie Westwood, kennel Westlyn, helping me to buy "Elsa"
Together with N CH, DK CH, INT CH; Swedish Winner 95 96 Speedlines Crowning Point ( a Brilyn Chance Again son) she gives me so many winners! Most famous of them are N CH, DK CH, INT CH, Norwegian Winner 1997, winner of BIS at Collie Club Shows, Gatefields MAYDAY, Gatefields MICHELLE, 3 CCs 3 Cacib, owner Mrs Junita Arwidsson, kennel Speedline, Gatefields MIDGET MADONNA, 5 CCs, 2 Cacib and several big wins "in Group" and G MAX SOUND, owned by Ann-Sofie Falk, he has 3 CCs and big success "In Group"It is also many of the progeny who has one or two CCs.....What a girl she was my loved "Elsa"
Today I have five collies and a puppy bitch in young age. All of them are related to my dear "Gitti" and/or to "Elsa"
Now and then we have a litter, but not very often. I have my dogs for joy and pleasure, not to produce puppies.
Three of the dogs are veterans, so I have only a couple to show. Their names are Gatefields My Goldmine "Asta" and Gatefields Go Ahead, "Svea". Both of them have got all the CCs they can have in Sweden, and should have been CHAMPIONS in another country. Asta needs just one more CC in NORWAY to complete her Norwegian title. As she is very young she will have plenty of time to "finish".
Hopefully one of the girls above, or maybe both, will have puppies in the end of this year.
The collies in Sweden have to make a kind of mental-test before you are allowed to breed from them. I'm proud to tell that my collies are considered to be nice and social as well as not afraid of gun-shots, due to the judges of the tests .I can tell you that is true, as I know my dogs pretty well.....
You are welcome to take a look at the following pages. We will translate some of them to English, but today you always can look at the pictures and see the pedigrees.
Please write some kind words in my Guestbook if you like. I would like that!